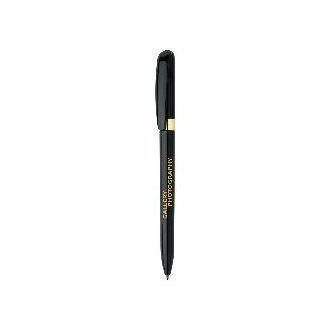 PENSRUS, a leading distributor of custom pens, personalized products, promotional pencils, and other advertising tools,  is encouraging all customers to "Go for the Gold" this Olympic season with a promo code from BIC on all new BIC promotional pens. With the promotional code, "BICLOYALTY", all valued customers can take advantage of additional savings on PENSRUS' special BIC loyalty page.
The BIC Pivo Gold is one logo pen that valued customers will see when they enter PENSRUS' exclusive loyalty page. Complete with a gold toned ring, multiple areas for imprinting upon, and priced at a new low price of $0.50 a unit when ordered in bulk, the Pivo Gold from BIC is one marketing pen that offers a new twist in advertising.
The sleek and slim profile is one unlike you've ever felt before, and the smooth twist action adds a touch of elegance not usually found in pens in this budget. The added gold ring ups the touch of elegance even further, making these promotional pens the ideal vehicle for your message.
The Bic Pivo Gold pens, with their colorful design and gold rimmed finish make for brilliant personalized promotional products, especially if you're targeting a younger, more vibrant audience. These imprinted business pens & personalized promotional products come in a whole host of colors to suit the tastes of a wide spectrum of clients. These promotional items are ideal your logo imprinted upon them as they are sure to catch the eye of the audience receiving it.
When customers enter "BICLOYALTY" on the PENSRUS homepage, they will find a wide array of promotional pens, advertising pens, and custom logo pens from the number one brand in America, BIC. Many of these marketing pens have been made available specifically during the Olympics and will bear the motto, "Go for the Gold!" These personalized products are special editions and will be loved and utilized by loyal customers, potential clients, and even employees when given out as gifts.
For more information, and for a full selection of BIC loyalty Olympic pens, please visit PENSRUS.com and enter in the promotional code, "BICLOYALTY" in the promo box on the left.