Summertime marks a time where the kids are out of school, the weather is great, and many people are taking vacations all over the world. It is because of these characteristics that July is the official National Family Reunion month. July is an extremely popular time to plan a family reunion, which is why you should take this month to take advantage of savings and promotions on items that will improve your next family reunion and make it a memorable one for years to come.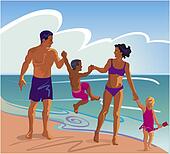 Family is important, as it is made up of people with whom you can laugh, cry, and share memories with. Because family reunions often involve one's immediate family, extended family, and those who are considered family, some family reunions may be larger than others and require nametags. Customized nametags are perfect for wearing during a family reunion, and as a saving for later as keepsake. They vary from round badge holders, to lanyards, to ID badge holders, all offered at extremely low prices when ordered in bulk. These flashy and fun nametags will ensure the reunion goes smoothly and that no face is forgotten.
Another fun reunion giveaway that can be customized are personalized stress reliever balls. These outrageous giveaways come in many different shapes and sizes including footballs, baseballs, hockey pucks, hearts, and more. Imprinted upon to bear your family's name, the date of the reunion, and other information, everyone in the family will love this fun toy and are sure to get use out of it while remembering the great time they had at the reunion. Not only are stress reliever balls fun to customize, give out, and play with, but they also serve a purpose. Kept in the car, at home, or in the office, these inventive products will take all the stress away.
It is early in the month, so there is still plenty of time to plan a family reunion and take advantage of all of the personalized family reunion products promotional product companies have to offer. From key chains, tote bags, and drinkware, to unique desk accessories and custom pens imprinted upon with the commemorative date of the reunion, the possibilities for a stress-free and full of fun reunion are endless. Make this year's reunion especially fun and memorable by buying some inexpensive customized products that the entire family is sure to enjoy.
For more information on fun and inventive items to make your family reunion memorable, please visit www.PENSRUS.com.