PENSRUS is now offering 18 different styles of custom pens from world-renowned writing instrument supplier, Paper Mate! Paper Mate has been providing performance-driven writing instruments for more than 50 years, and has continually been a top seller at PENSRUS. Now, with numerous unique styles to choose from, PENSRUS customers will be at ease finding the perfect Paper Mate product to promote their business.
Today, Paper Mate is introducing a wide variety of progressive, new products to meet the demands of today's consumers.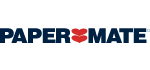 When looking for a logo pen that will represent one's company well, while keeping advertising costs low, consider the Papermate TriEdge. The Tri-Edge 3-sided ball pen gives companies who want to increase brand awareness three times the impact. With prices as low as $0.52 a unit, this custom pen is easily a customer favorite for those who want to reach their target audience on a daily basis.
Paper Mate also manufactures high quality gel pens, which are designed for smooth, comfortable writing day after day. To fulfill these needs for companies large and small, PENSRUS offers the Papermate Breeze Gel pen. The Breeze Gel is available in many different colors, and includes a grip that increases comfort. Starting at $0.94 a unit, these promotional pens are perfect for companies who want to implement a marketing plan using promotional pens, but do not want to sacrifice comfort.
Paper Mate personalized pens offer a wonderful alternative to the more costly forms of advertising, which is something that business owners will appreciate. As with all imprinted pens, PENSRUS does not charge a setup or imprint fee. For the complete selection of Paper Mate products, please visit www.PENSRUS.com