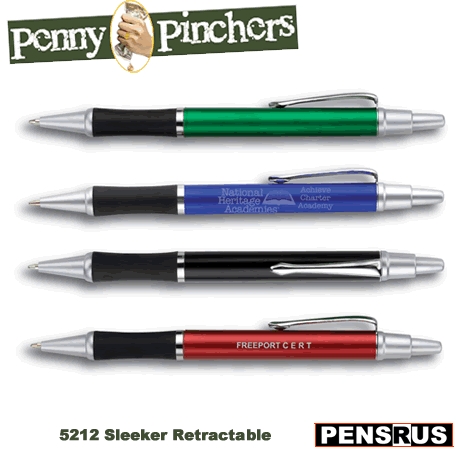 PENSRUS has drastically dropped prices on their already record-beating line of "Penny Pinchers" business pens. This celebrated line, sold and made exclusively by PENSRUS, has become a top selling promotional pen success over the past few months, which is why PENSRUS is offering a no setup fee, no imprint fee, and free ground shipping on all Penny Pinchers pen orders.
Business owners and marketing individuals looking to promote their business with a low-cost yet inventive way can celebrate with these stylish and affordable logo pens complete with a classic twist-action retractable form. Advertisers cannot beat the new competitive price of just $0.59 a unit for these stylish pens that will set their businesses apart. The Lodger Gold imprinted pen is one of PENSRUS' most popular, as it continues to stun and wow clients with its gold accents and bold barrel colors.
"At PENSRUS, we've worked extremely hard to find our customers the lowest possible price on custom advertising pens without sparing quality and style," comment PENSRUS CEO Henry Morgan. With different styles to meet every business owners need's, paired with no setup fee, no imprint fee, and free ground shipping, we hope to make this fabulous line of professional writing instruments available to virtually everyone with a small or large marketing budget."
This holiday season don't spend an arm and a leg looking for a product that will wow potential customers and loyal clients. The Penny Pinchers line is elegant, professional, and affordable, with over 34 styles to choose from.
Act now and receive no setup fee, no imprint fee, and free ground shipping with every Penny Pinchers order. One's company will stand out this holiday season with these personalized pens.
For a full listing of Penny Pinchers and other promotional products from PENSRUS, please visit http://pensrus.com/