PENSRUS, a worldwide distributor of promotional pens, personalized products, custom logo pens, and other specialty marketing and advertising products, announced their mega sale for their consistently popular line of "Penny Pinchers" business pens during this years' tax season. This well sought after line of imprinted pens, which is only available at PENSRUS, has far surpassed sales expectations and has become the favorite pen among customers and clients who are looking for the perfect way to promote their business during tax season.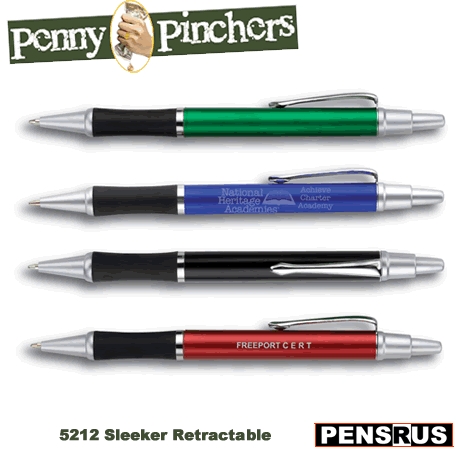 "This tax season, we hope marketers and accountants alike use the Penny Pinchers line of custom promotional pens to promote their business while trusting the top quality line to complete their taxes," comments PENSRUS CEO Henry Morgan. "The Penny Pinchers line is one of which anyone could afford, and customers who try these low cost advertising pens can attest to the high-quality value of the product, which is now available in over 36 different colors and styles".
Choose from click retractable, twist or stick styles, and pick from ballpoint ink, highlighter ink, or even gel ink.  One of the most popular "Penny Pinchers" imprinted pens is the "Lodger Gold Accents" pen, which boasts a classic styling that can be compared to pens that cost up to five times as much.
The Penny Pinchers line can be used as a great marketing tool for accountants during this years' tax season, as the pens truly act as an advertisement in action. These pens are ideal for imprinting a company name, logo, and contact information so that whenever potential clients reach for a pen or when next years' tax season rolls around, that company is on the mind.
"Penny Pinchers", as well as all PENSRUS logo pens are available with free ground shipping.
Please visit http://www.pensrus.com for more information.