Today's promotional products and advertising industry is booming with numerous gidgets and gadgets targeted towards specific customers. There are modern electronic devices, eye-catching digital ads, and guerrilla marketing strategies. However, the most beneficial and cost efficient way of catching a customer's eye as they go about their daily activities is with a custom pen. PENSRUS, a worldwide distributor of custom pens, logo pens, and other advertising products, is ringing in the new year with unbeatable sales on these timeless, conventional items.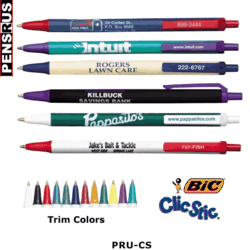 Though 2012 is sure to be as digital an era if not more so, than 2011, marketers may note that people constantly have to take our their pens to sign bills, fill out forms, write down notes, and more. The Sheaffer 500 Ballpoint is a prime example of a promotional pen, which not only increases brand visibility, but also increases brand reputation. This modern yet elegant pen boasts a glossy black cap and barrel, glossy navy cap and including chrome plate trim. Priced individually at $19.31 a unit, customers will think highly and often of one's company whenever a pen is needed in their daily life.
PENSRUS is also offering custom business pens for those companies who are on more of a marketing budget. Advertising pens are one of the cheapest promotional products on the market, and PENSRUS' high level of options ensures every company can afford to implement imprinted pens into their budget. Bic's Round Stic Pen can e ordered in bulk so that each pen only costs $0.24 a unit. Complimentary with barrel colors, trim colors, and imprint options, the BIC Round Stic has unbeatable prices paired with top quality production.
"It is important that marketers pick a logo pen that emulates the quality of one's services or product," comments PENSRUS CEO Henry Morgan. "Poor quality branded pens have the ability to damage a brand's image, which is why PENSRUS has been a trusted distributor of promotional products for over 50 years. We offer both high-cost and low-cost pens, but regardless, one's image is fully guarded with the quality and usefulness of our promotional products."
PENSRUS offers thousands of advertising products in addition to custom logo pens. For a full listing of all marketing products, please visit www.PENSRUS.com, or for personalized help on your custom order, please call 1-800-736-7787