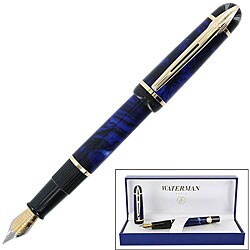 PENSRUS is celebrating one of their most popular lines of high quality pens-the Waterman collection of personalized pens. One of the few remaining first-generation fountain pen companies, Waterman's extraordinary history details the lengths it has gone to bring together innovation, design, and excellence. PENSRUS, a leading distributor of custom logo pens, advertising products, and wide variety of Waterman designs, has been offering the highly prestigious Waterman pens for years now and has named the Waterman Pen Company pens, Pen of the Year.
"Waterman pens have always been a top seller at PENSRUS, and customers appreciate the notion of having the very best quality writing instrument matched with unparalleled craftsmanship," comments PENSRUS CEO Henry Morgan. "Our customers can agree that Waterman pens are one of the most elegant and inventive business pens in the industry today."
The Waterman Expert Ball Pen is an excellent example of a pen perfect for a recent graduate or someone who has just received a promotion. Better yet, it is a great gift to give to celebrate the holidays and ring in the New Year. This luxury pen boasts innovation and expression, with its distinctive, vibrant style. The beveled cap and double guilded rings are available in chrome plate or 23 karat gold, while the black lacquer of the barrel exudes classic values with subtle hints of modern day style.
These engraved pens are also available for marketers who want to improve their advertising efforts and brand visibility. The Waterman Hemisphere Stainless GT Roller Pen is an excellent option for business owners who want to push the boundaries of expertise and style and increase their product or brand's reputation. Complete with a 23.3 karat gold or chrome plated clip and trim, these customizes pens can cost as low as $35.00 when ordered in bulk.
Discover the extraordinary craftsmanship behind the Waterman Company Pens and see why PENSRUS has named Waterman, Pen Brand of the Year. For more information and a full listing of all Waterman logo pens, please visit www.PENSRUS.com or call 800-736-7787.