Branded Promotional USB Sticks Are the Perfect
Promotional Item for Photography Businesses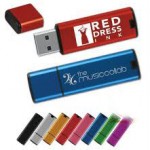 A branded promotional USB stick is the perfect promotional item for a photography business to use in terms of marketing, branding and creating customer loyalty. Modern businesses need to be efficient in all areas including marketing. It is also important to consider environmental factors by ensuring that products and policies include environmental awareness. These can be critical for photography businesses, especially smaller ones.
Efficiency in processes and procedures can lead to greater output, higher sales and increased income. This is something that all businesses strive to achieve. Using a branded promotional USB stick for delivering photographic proofs or final images is an extremely efficient method. The images are all stored in one place and delivered at the same time. The use of the USB stick will also provide ease of use to the customer.
A branded promotional item such as a USB stick makes an ideal 'carrot' to hook a new customer. Smart photography businesses use them as a gift for booking a photo shoot. USB sticks are valued by all computer users due to their size, high storage capacity and the fact that they are portable.
The use of the promotional USB stick branded with the photography company's details not only ensures that it is effective advertising, it also promotes an environmentally friendly message to clients. USB sticks are re-usable; by the recipient and by anyone that they may pass the USB stick to. Providing a reusable media to customers will be appreciated. They will recognize and respect your company's awareness of environmental issues as well as not wasting consumables such as ink or photographic paper.
Another advantage of using the promotional USB stick is reduced postage and packaging costs. Packets of printed proofs or photographs can weigh a significant amount. A USB stick is small and light requiring less packaging and incurring a lower postage rate.
Many photography businesses, large and small, now use branded promotional USB sticks as part of their marketing strategy to help increase awareness and business. These promotional items are also a great way to show a respect for the environment which will be admired by many customers and potential customers.
Tags:
branded promo items
,
branded usb sticks
,
promotional items
,
promotional products
,
promotional usb sticks