Illuminate your message with the simple press of a button. Alternate between the "always on" or "blinking" mode.
A one color imprint on the clear light-up cap is included.

Choose from a satin chrome or black gloss barrel.

Choose from red or blue LED light color.

Packaged in custom snap-closure box with batteries.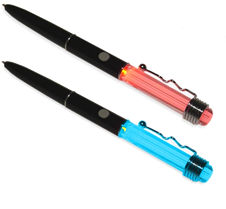 Choose From 2 Wild LED Colors
Choose your color to match your moods. Pen barrel available in either silver (pictured at top) or black (pictured above).