Home >> The Explorers Stylus Pens
Click any image for more information
The Explorers Collection fits in the palm of your hand. All four styles combine a PDA stylus with a ballpoint pen.
The Columbia features a brushed satin-chrome upper area with a rubberized grip in either black or blue. A twist of the barrel exposes either a stylus tip or a ball point pen.
The Discovery, available in black, has a fixed stylus point and a twist-action ball point pen.
The Endeavor is available in a brushed satin chrome finish. Twisting the barrel allow use of either the stylus tip or a ball point pen.
All Explorers Collection stylus-pens are available plain or engraved and come with our suedette pouch (except the Discovery, which is bulk packed).

We even have SmallBiz Packs of 12 stylus pens engraved with your text available at special prices.
x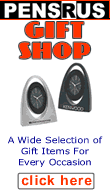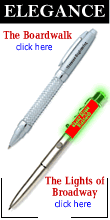 Need Your Order in a Hurry?
3-day rush service available on selected pen and product collections.
[click here]